Delaware Avenue Library Sculpture
"Be Part of History and add your brick to the Trolley Rail Sculpture"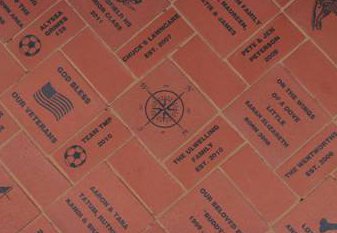 DANA & DAMG have sponsored the design and implementation of an iron sculpture made from the trolley rails dug up from Delaware Avenue during the renovation. It is to be dedicated to Albany Historian Virginia Bowers. Created by local artisan Matt Hart, the sculpture is complete and in place at our Delaware Branch Public Library. 
Now we can all be a part of the history of this beautiful and unique work of art. Purchase a brick and inscribe your name, the name of a grandchild or child, dedicate it to a loved one, or leave a message for future generations. Please follow the instructions below to order a brick online. 
There will be an official ribbon cutting and dedication ceremony in the Spring, so get your brick ordered now to be part of the ongoing history of this neighborhood. 
How to Order:
Just follow the simple step-by-step process below to place your order. Be sure you are happy with your brick design as it will look very similar to the image on your computer when completed. You can also order a replica brick for your home.

*We are a non-profit organization,  $50 library brick donations are tax deductible*

Payment Options:
Pay online with a major credit card (VISA/MC/AMEX/DISC).
Pay by check or money order. Checks made payable to DAMG, please see website for address.
Follow the on-screen directions during checkout.
If you have any questions, please contact Diana Wright at comphomellc@gmail.com